Liz of Late Afternoon looks as lovely as ever in our cobalt blue Friday Night Party Blazer. Our favorite color and one of our favorite bloggers? Perfection.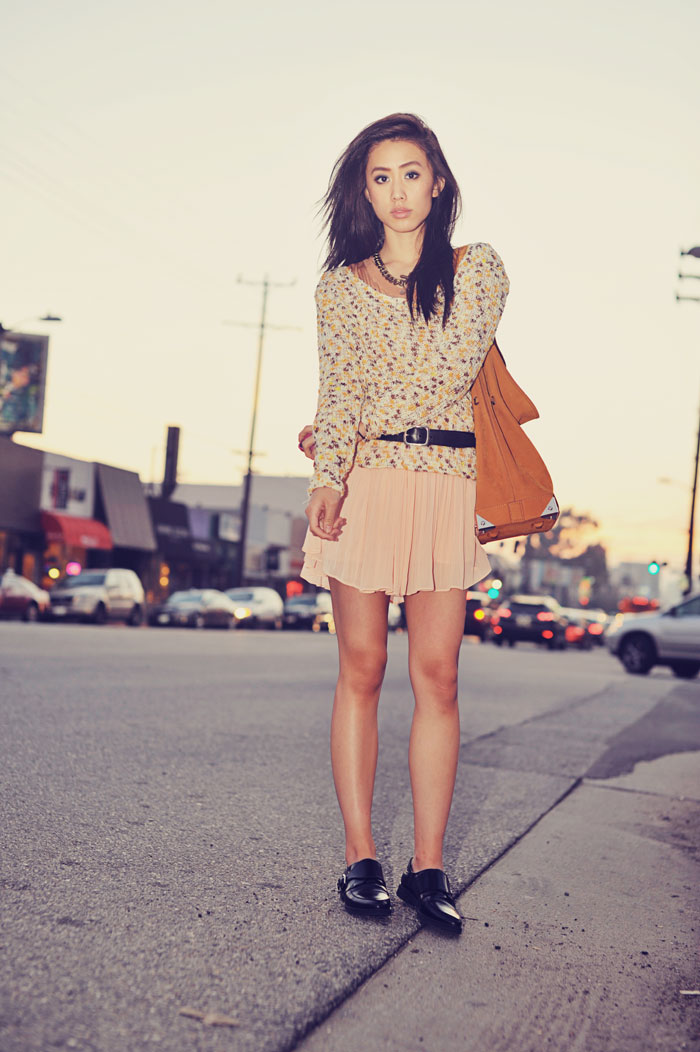 Jenny of Neon Blush looks damn good in our Children of the Corn Sweater by Mink Pink and Pink Georgette Pleated Skirt by BB Dakota…
Liz of Late Afternoon styles our Falling Behind Cutout Boots to perfection. Her mix of pink and blue shades has us swooning all over the place.
Liz of Late Afternoon layered yellow on yellow on yellow with our California Dreaming Crop Top by MinkPink. We love her monochromatic look with a splash of print and metallic. Liz always has a way of styling down to the very last detail. Ah-mazing.
Liz from Late Afternoon stuns in our new Yoko Cape by Mink Pink, which moves incredibly sexily in the wind by the way. The setting, the outfit, the girl, we're slightly in love with this whole shoot.
Jen of A Go-Go Fashion takes our Wrangler Suede Ankle Boots in Brown to the desert and looks scorchingly good. The desert sun ain't got nothin on Jen.
Aimee of Song of Style is quite the head turner in our Vivaldi Voile & Lace Tunic by Free People (sold out). We love that she rocked the pretty tunic as a dress, and paired it with an out of this world metallic jacket and bright pumps.
Liz from Late Afternoon rocks one of our favorite maxis to date: our Gypsy Junkie Crochet Maxi. Expertly styled, Liz effortlessly embodies a bohemian goddess with just a little bit of edge. And of course, we are in love with her hair. Wavy Hair with Snake Braids, anyone? Check
Aimee of Song of Style looks effortlessly cool in our Black on Black Vegan Leather Pants by Blank NYC. Paired with spiked kicks and a loose knit, Aimee just kicked up her swag by a few notches.
Liz of Late Afternoon looks lovely and feminine in our Yellow Fever Asymmetrical Skirt. We love her gorgeous color combo and are always a fan of the belt-over-sweater for a perfectly polished look.