This past Thursday we headed over to LACMA to attend their monthly concert series, Through the Mic, hosted by Murs. Honestly, I didn't know what to expect. I thought I would just enjoy some tacos and beer and listen to some amateur rap artists. To my surprise, it was freakin' AWESOME. Who knew an art museum could put on a good hip hop show? Also, the museum's Urban Light collection served as possibly the most epic backdrop I've ever seen.
Gizzle: One of my faves of the night. Though she did manage to forget some lyrics, she pretty much killed it with her hilarious banter and impromptu stage dive (her first, nonetheless). For real, I would go see her again just to listen to her talk.
Dumbfoundead: Definitely gotta give credit to this dude. He can spit a mile a minute and he freestyled almost in between each song. AND he brought his own band in addition to a dj (we choose bands over pre-recorded tracks any day). Also, I absolutely loved his drummer/singer, his vocal chords were as smooth as butter.
Medusa: Dude. This woman sure knows how to entertain a crowd. I wasn't bored for even a millisecond while her set was going on. Dancing, freestyling, textin' and twitterin', holding up west coast signs, she had it all. You could just tell this is what she loved to do and I enjoyed it that much more because of it.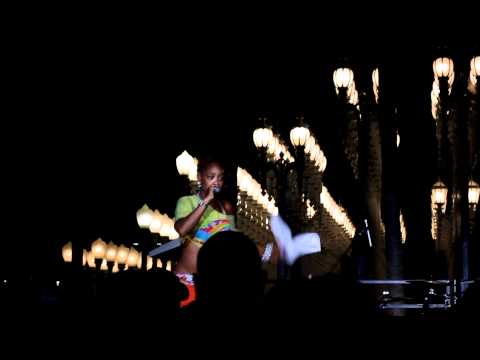 Murs
It was a great night filled with wine, beer, tacos, art, and rap. I couldn't ask for a better way to start off the summer.
For more info on this series: 
Through the Mic
Dumbfounded,
Teresa